May 25 Update:
The Gulf Stream Loop Current, which did pick up a tendril of oil, periodically reconfigures itself into an isolated loop. This has just happened, which means the cut off loop may have a lower probability of transmitting oil to the Gulf Stream. An updated, May 25th image is shown directly below and an earlier image is below that.
AP photo, by Eric Gay, shows the overwhelming effort that active booming requires
Collection system being towed by two, boom dragging tugboats.
Suppose we revise this image: leave the booms connected to the collector; elongate the booms; lose the 2 tugboats; anchor the booms in a crescent, facing the wind; anchor the collector at the head of the booms. The 2 tugboats can now work where they are more needed. photo by Petty Officer 2nd Class Prentice Danner, U.S. Coast Guard/Released).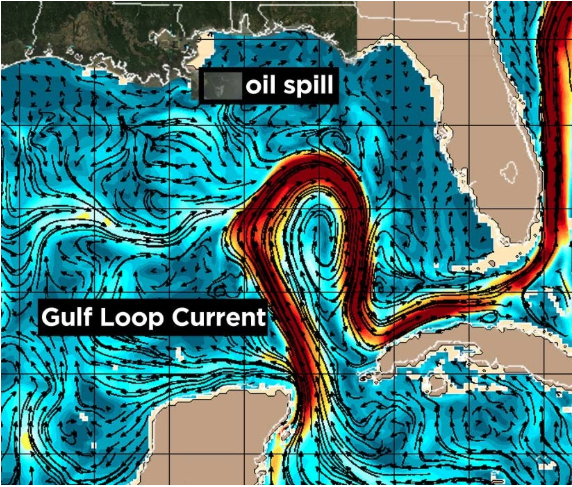 An earlier image, note the counter clockwise eddy at the head of the loop current. This eddy can pick up oil.
Overwhelming challenge for active collection. Dots on lower left are ships.