This is the lead page in our Coastal Restoration Series. Above image by Safe Harbor, planting American Beach Grass on a Coastal Bank, using ladders to prevent erosion (see our booklet on STABILIZING STEEP and VERY STEEP SLOPES in FREE PUBLICATIONS page) Coastal Habitats are the most complex to put back together because their profiles and diversity are determined by Uncertainty. Safe Harbor develops innovative strategies using the natural energy already present in our coastal resource systems. Coastal beaches, dunes and banks each have characteristics uniquely relevant to their restoration. Native vegetation planting systems require some degree of diversity to contribute to sustainability. Bioengineering strategies may be implemented if mid successional habitat requires restoration.
Coastal restoration is critical for Cape Cod due to the constant coastal erosion and sediment transport particuarly along Provincetown as shown in this clip.
Cape Cod Sediment Transport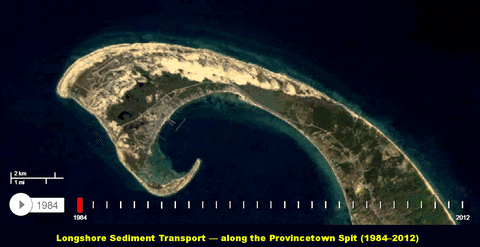 RELATED PAGES:
View our SALT MARSHES page
Safe Harbor provides alternatives and cost benefit analyses to contribute to more sustainable, educated  decisions.
RELATED PAGES:
For more information visit our NATIVE COASTAL PLANTS AND HURRICANES page.
For more information visit our NATIVE HABITAT RESTORATION page.
For more information visit our INVASIVE PLANT MANAGEMENT page.
For more information visit our MANAGING INVASIVE VEGETATION page.
For further reading please feel free to explore our
RELATED PUBLICATIONS:
Native Vegetation Planting Guide
Invasive Cape Cod Plants "The Dirty Dozen"
Managing Invasive Vegetation Without Chemicals
Save
Save
Save
Save
Save
Save